This vid of Beaker from the Muppets unexpectedly fired up my holiday spirit:
All this freaky weather has really interfered with my internal calendar. Last week, I'm riding the bike to work in beautiful sunshine weather. I rode Monday and nearly froze my nads off in the 30s. Yesterday, sunshine & 60. Tomorrow, snow. WTF???
I'd reallllllly like to see some flakes tomorrow. Bright & early in the morning, we're loading the truck with the whole crew of kids. The new kid, Joe's fiancée, is coming, too. Heading out to
Ticonderoga Farms
to cut down our own Christmas tree. We've been going there for the past couple years. It's a fun, silly, Rockwell family kinna thing to do. If we can add just a dusting of snow to the picture, I'll be a happy boy.
After we get the tree in the morning, the rest of the weekend is set aside for decorating the tree and the house. I'm planning a big ol' fire in the woodstove, lots of holiday music, cocoa & marshmallows, and munching all the broken candy canes that we find mixed in the bottom of the decoration storage bins.
My little bro has already won the Spirit Award. Doesn't matter what we do to our place, he's in the major leagues. He may have started his install back in August sometime, but the results are worth it. He's got the synchronized lights dancing to recorded music. Not just any music, though, he's broadcasting it through the FM on your car stereo. For real. I feel like I should win concert tickets by being the 7th caller on his cell phone.
Enjoy the weekend, get your holiday spirit cranked up, and think of me tomorrow! (Happy thoughts if it snows, wet & muddy thoughts if it rains.)
= = = = = = = = = =
Help Tiger
escape the angry Elin
!
The game that's fun even if you lose,
Guess the Chest
. (Safe at work, and includes both M & F Hollywood contestants!)
You only think you know how the
Mixed Memories
brain game works. It'll stretch your brain a bit before you figure it out.
= = = = = = = = = =
(giggle)
(I can't help that my brain is still only 13 years old.)
Five things to know about
climate change
.
Legaliiize it:
Google is
twisted
. So is Dom.
The Chinese uncovered the truth about Tiger:
Video Professor is a scam. Well, duh. Almost every one of those work-at-home, learn-at-home, anything-without-effort things are some sort of sneaky. I had no idea it was
this bad
.
The Muppets sing Bohemian Rhapsody. Best version ever; they kick Wayne & Garth's A55!
Vampires suck.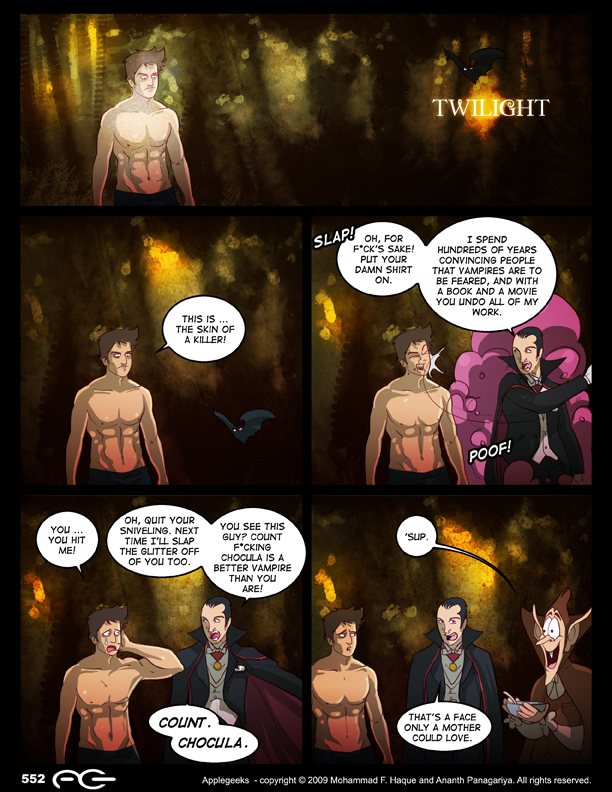 FoxNews = GoodMaths
Star Wars Facebook
More SWFBs on
CollegeHumor
.
Bing is a
rip-off
, too.
Crazy infographic map of human space exploration for my fellow geeks...
Here's a dynamic & interactive version of the
same pic
, from National Geographic.
Lamebook of the week:
(You're still singing Peter Tosh now, huh? It's been in my head since I wrote that comment days ago. Don't criticiiiiiize it. Legaliiiiize it, I'll advertise it.
Take that to your weekend.)
= = = = = = = = = =